San Juan River Canoe Trips
Fun and Adventure on the San Juan
Melting snows high in the majestic peaks of southwestern Colorado's San Juan Mountains forms the beautiful and powerful San Juan River in Utah. Cutting deep through the high plains of the Sonoran Desert and shaped by 300 million year old canyons that inspire the name of the legendary Canyonlands National Park in Utah, the San Juan River remains a major tributary to the famed Colorado River. Beyond towering red rock canyons and elaborate stratigraphic formations, the San Juan River is also notably the fastest flowing river per mile in the United States.
Miles of high volume and good current are interspersed with numerous Class II and easy Class III rapids, making the river eminently canoeable and with no portages. San Juan River canoe trips with Smoking Rivers begin at a location called Sand Island, just outside the small town of Bluff, Utah. The river, maintained by the Bureau of Land Management (BLM) flows over 80 miles from this location to its terminus at the northern reaches of the expansive Lake Powell. On its way, the river passes through miles upon miles of majestic canyons, subtly hued with colors of red, yellow, and green with the passage of time; famously, the inspiration for the beautiful and colorful Navajo blankets common throughout the American Southwest, was drawn from the vistas on this very section of the San Juan River, which it remains today as the home to the largest Navajo Reservation.
For the first few days of our San Juan River canoe trip, we take ample opportunities to explore the landscape we are traversing. There are numerous remarkably well preserved petroglyph panels that can be viewed by short side-hikes and toe-hold routes used by the ancient Anasazi can often be seen whilst on the water. Perhaps the most popular side-trip on the San Juan River canoe trip is a stop at River House Ruins. An ancestral Puebloan ruin, these structures were built under and into the cliff-sides of the river but were suddenly abandoned, for reasons still unknown, over 700 years ago. Today, paddlers that wish to embark on the short hike to these ruins will find many remnants at this extremely well preserved and maintained cliff dwelling, such as colorful pottery shards and other artifacts of the ancient people.
San Juan River Canoe Trips
Trips Available: April
Trip Length: 8 Days
Difficulty: Moderate
Age Minimum: 12
Deposit:
50% Deposit required at time of reservation. Remainder due no later than (21) days prior to trip departure (non-refundable).
Cancellations & Refunds:
0-59 days prior to trip- deposit non-refundable
60-89 days prior to trip- 35% deposit refundable
90 days or more prior to trip- 75% refundable
Group and Youth rates available. Rates are based off a 4 person trip subject to change depending on group size and duration.
Trip Resources
Past Adventures on the Complete San Juan River Trip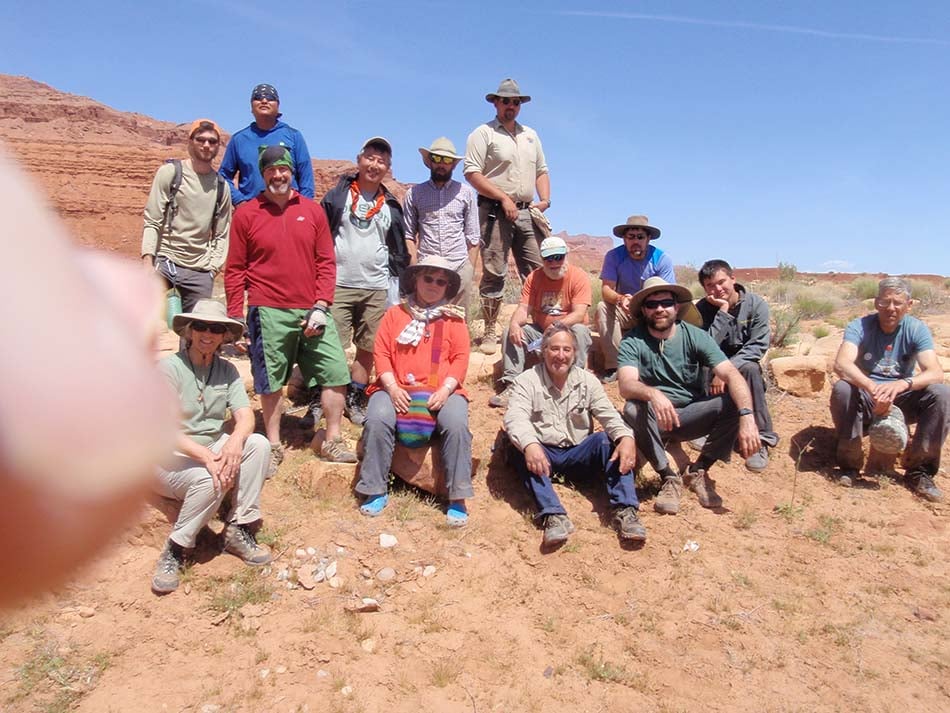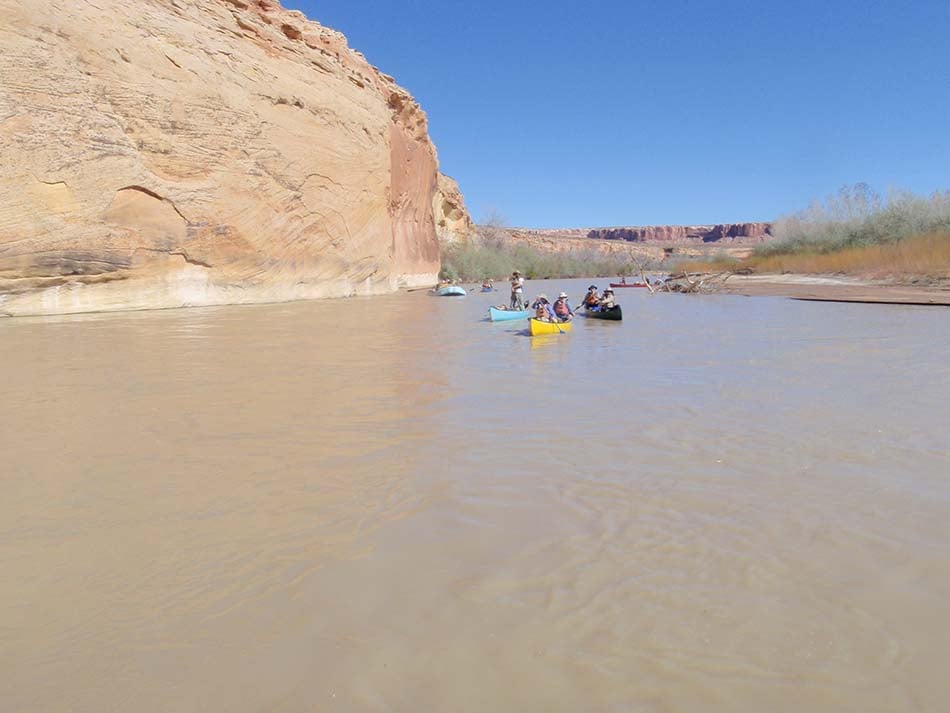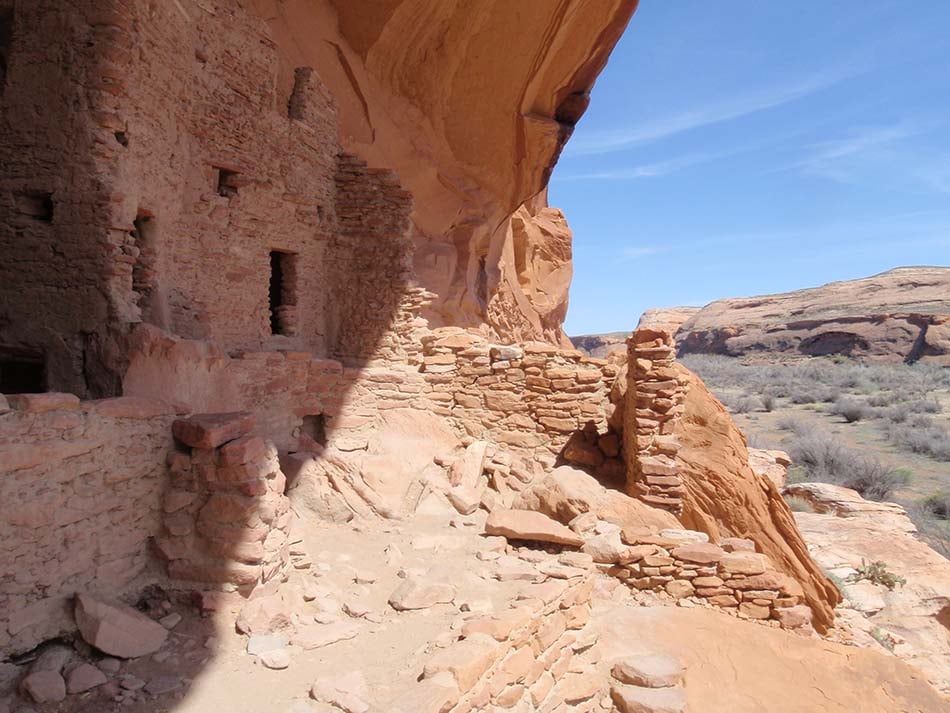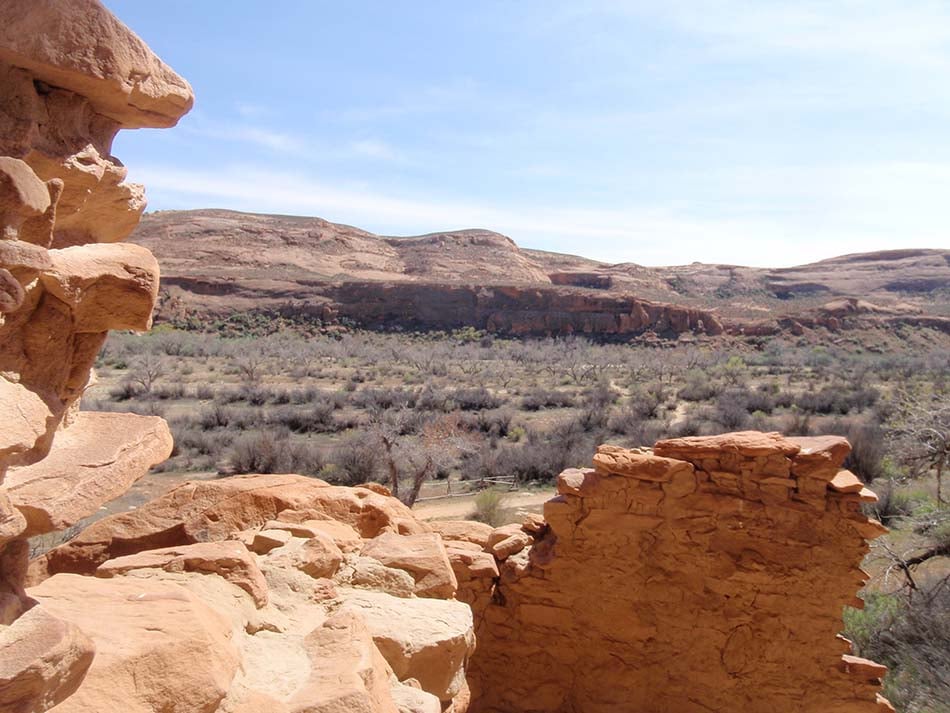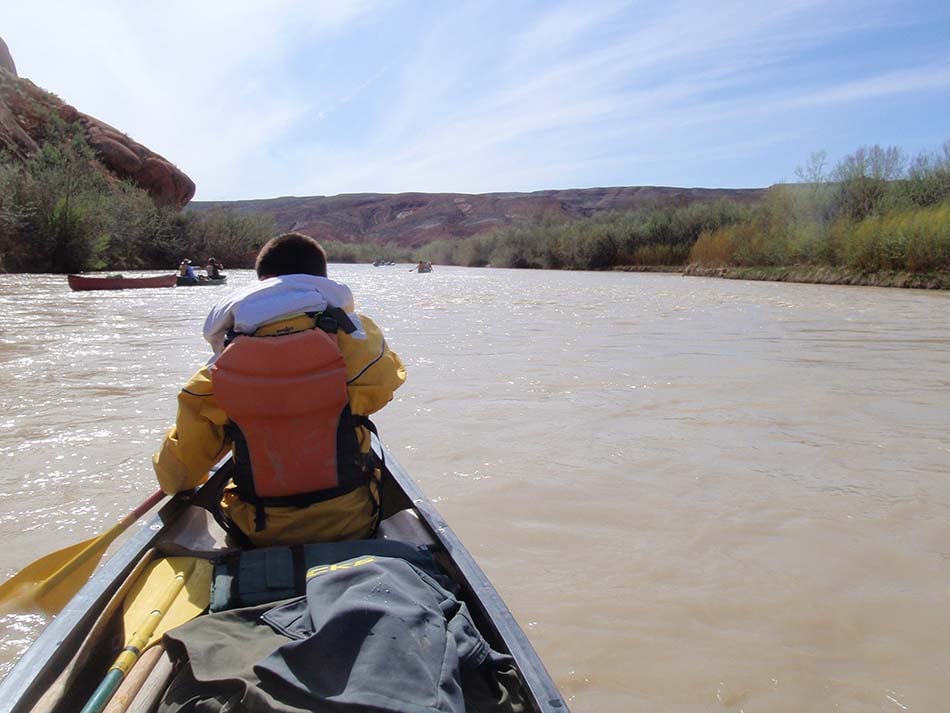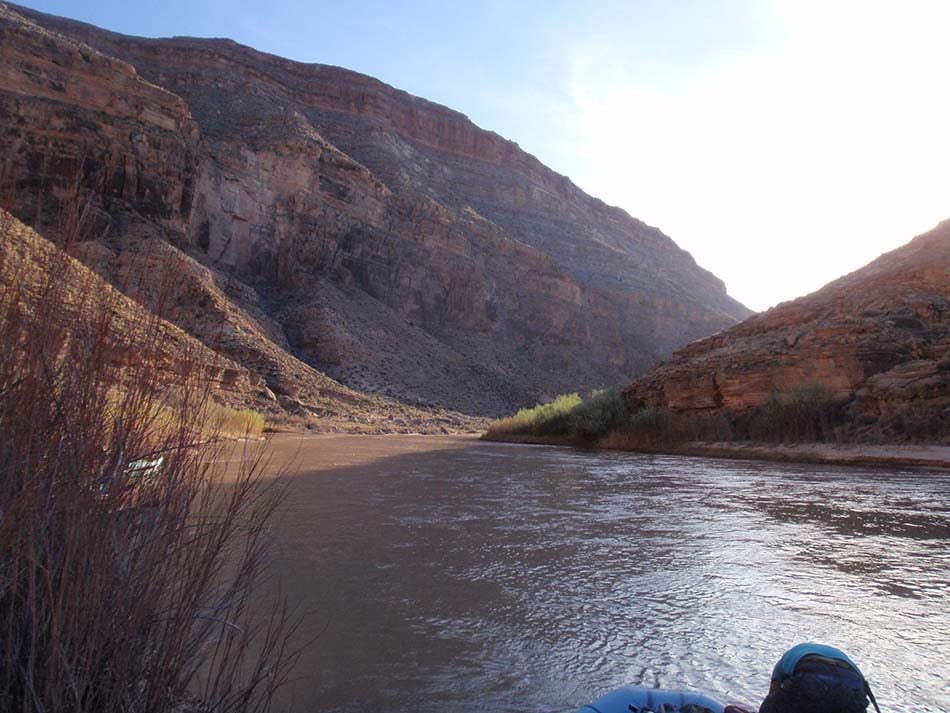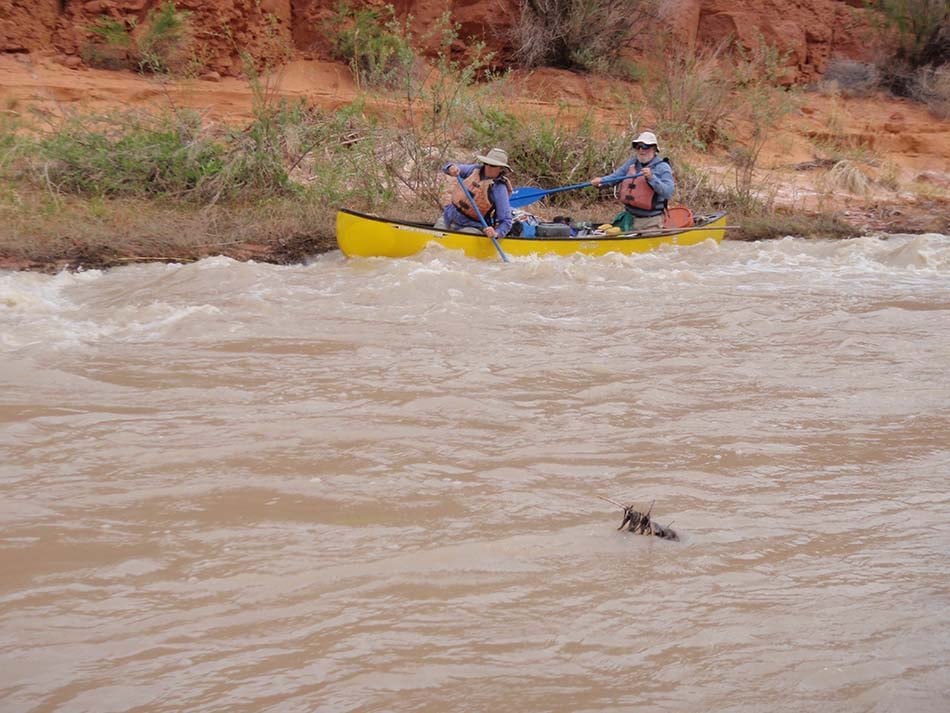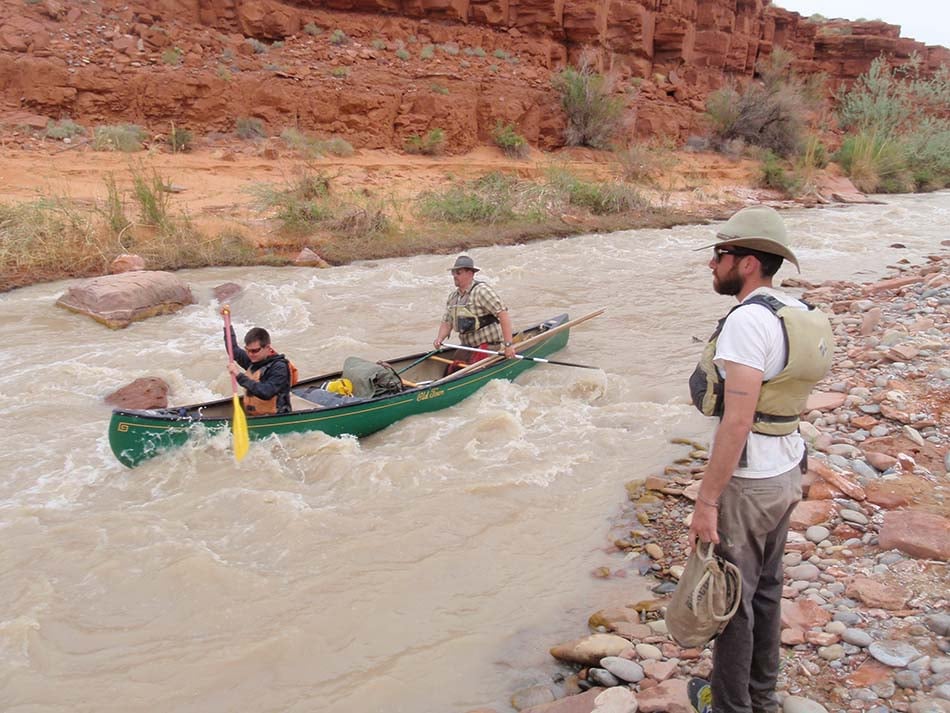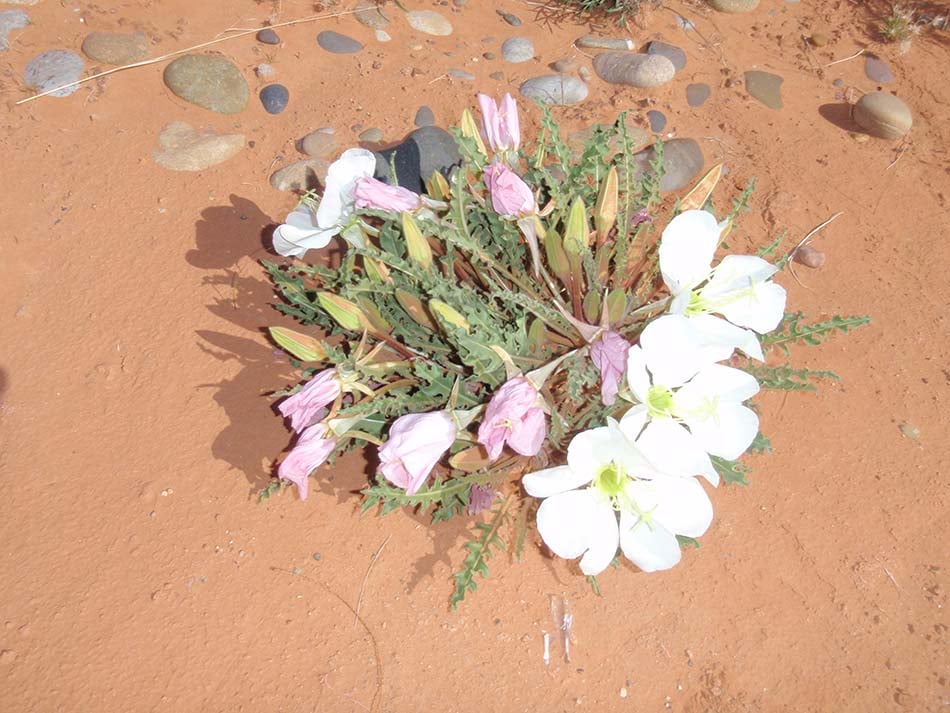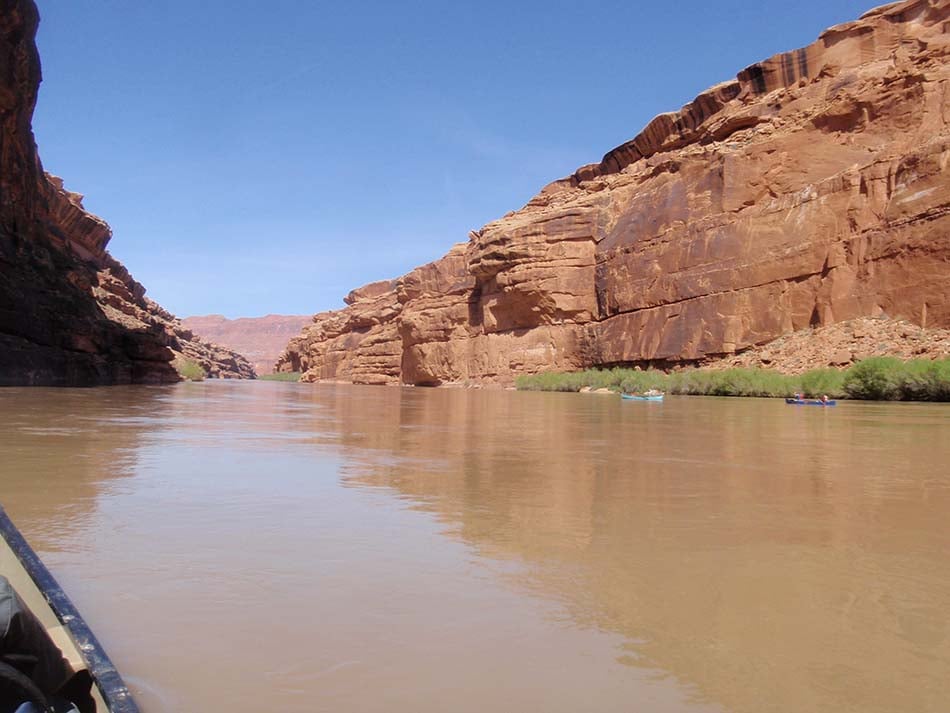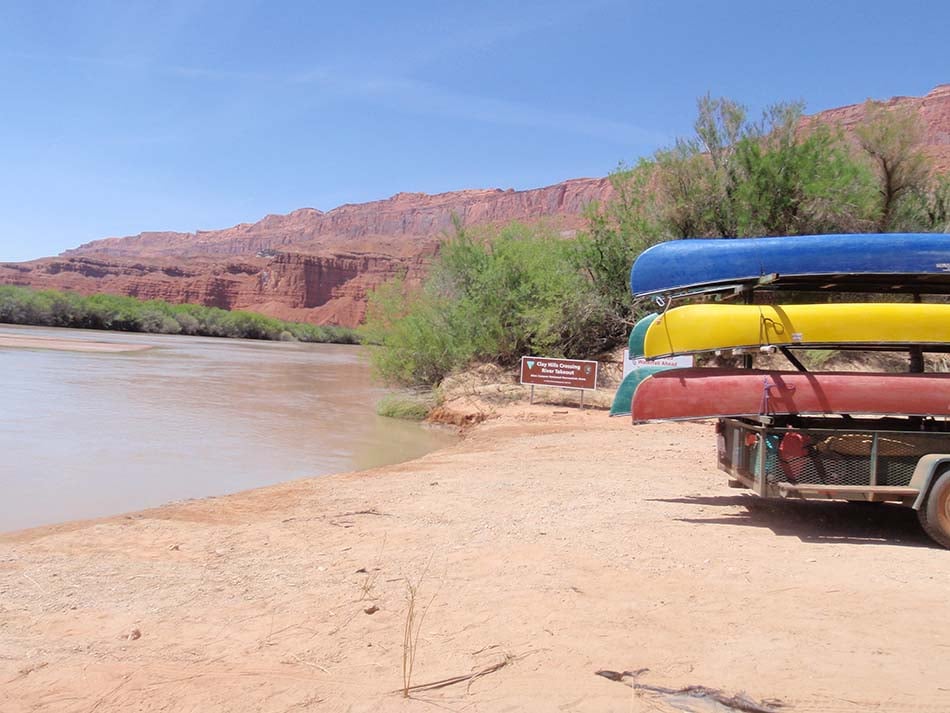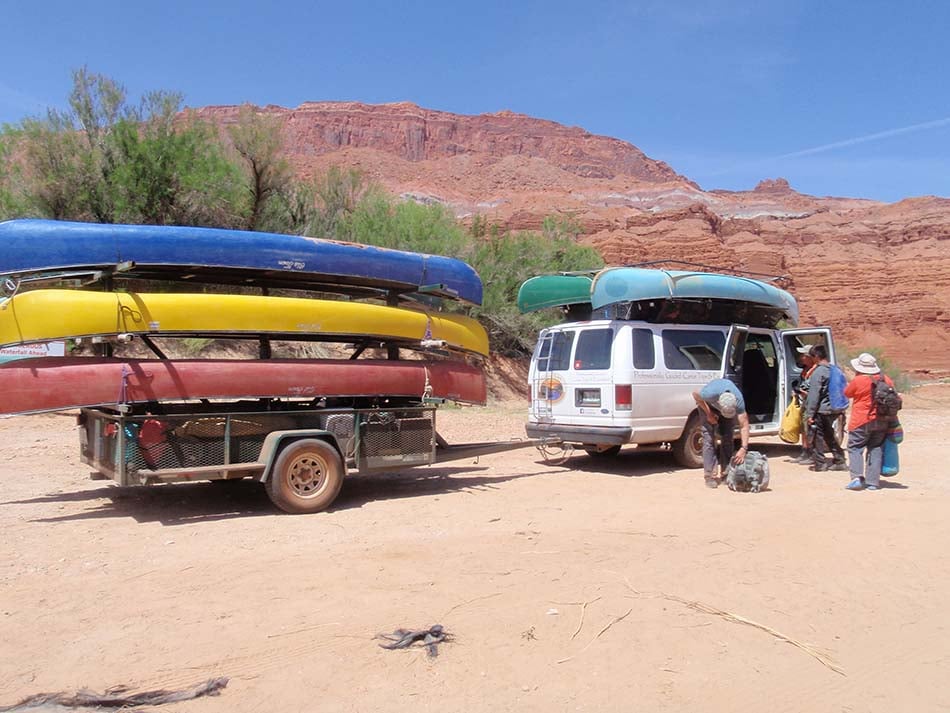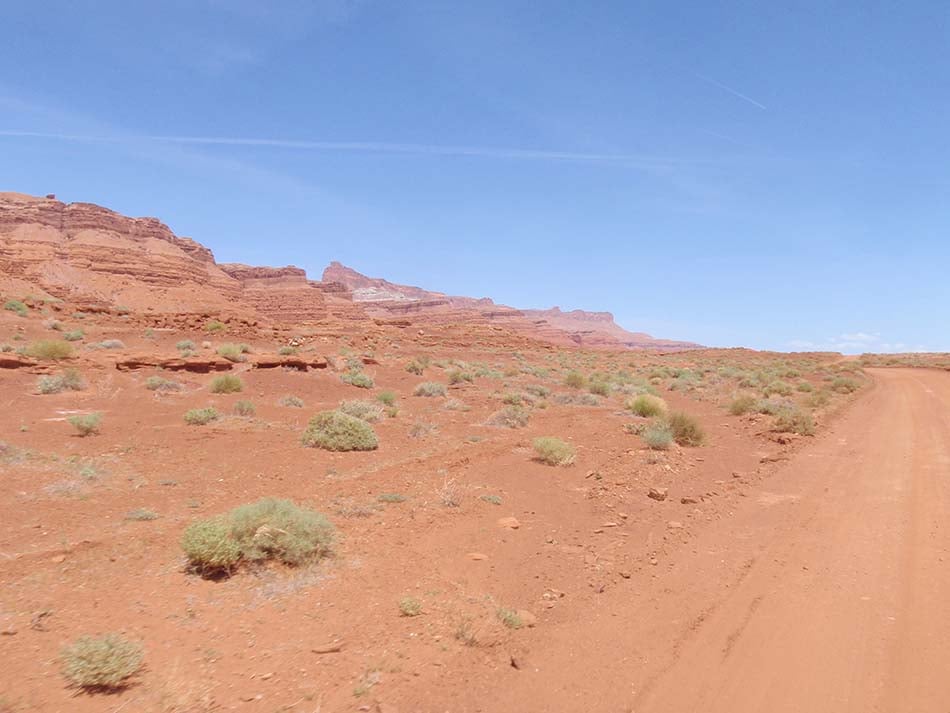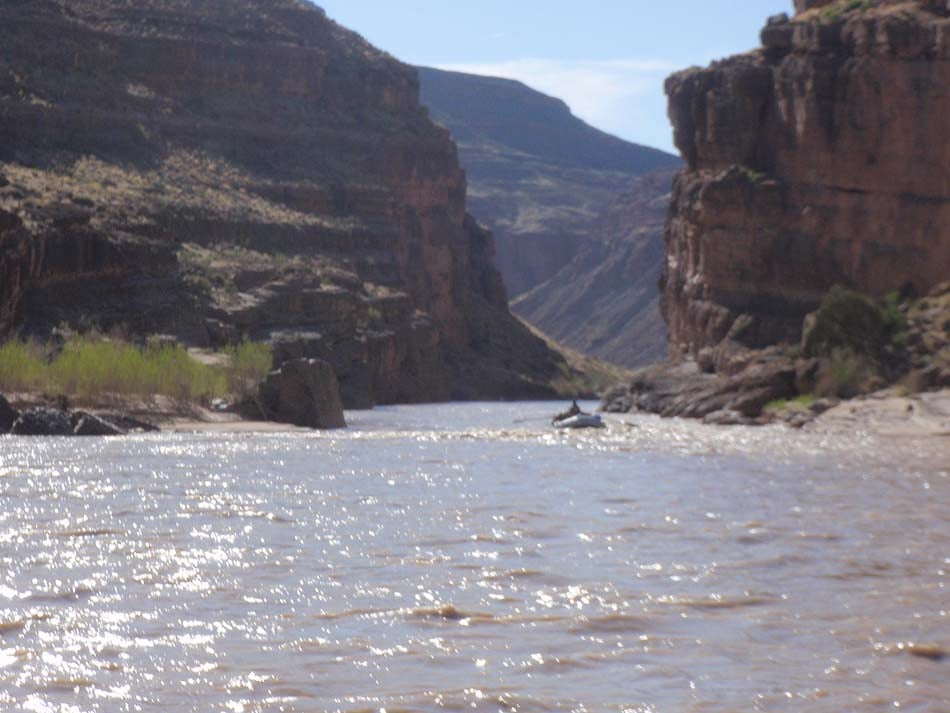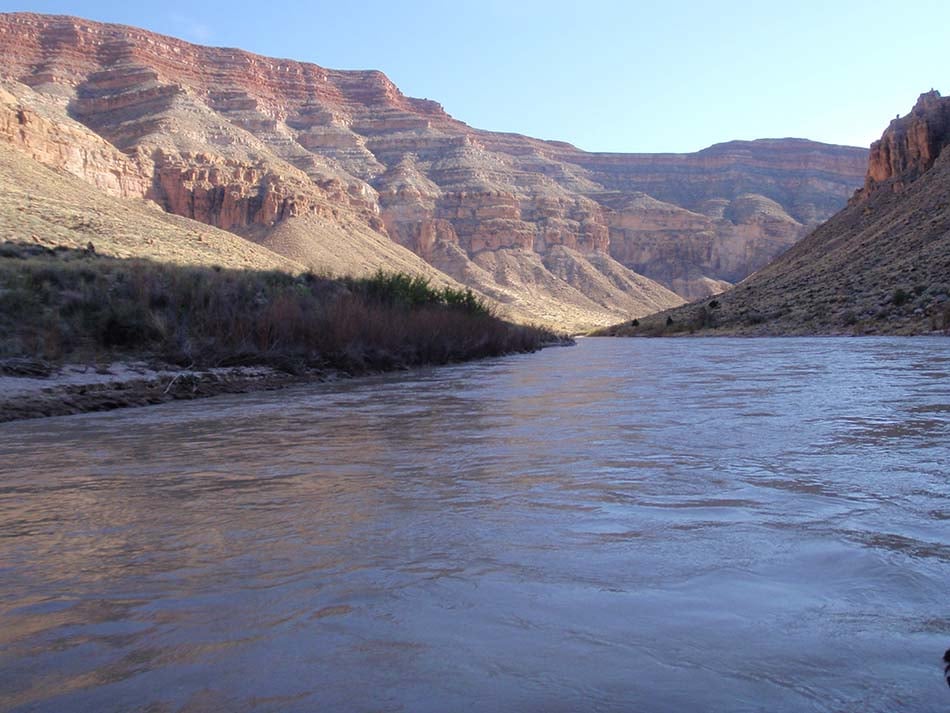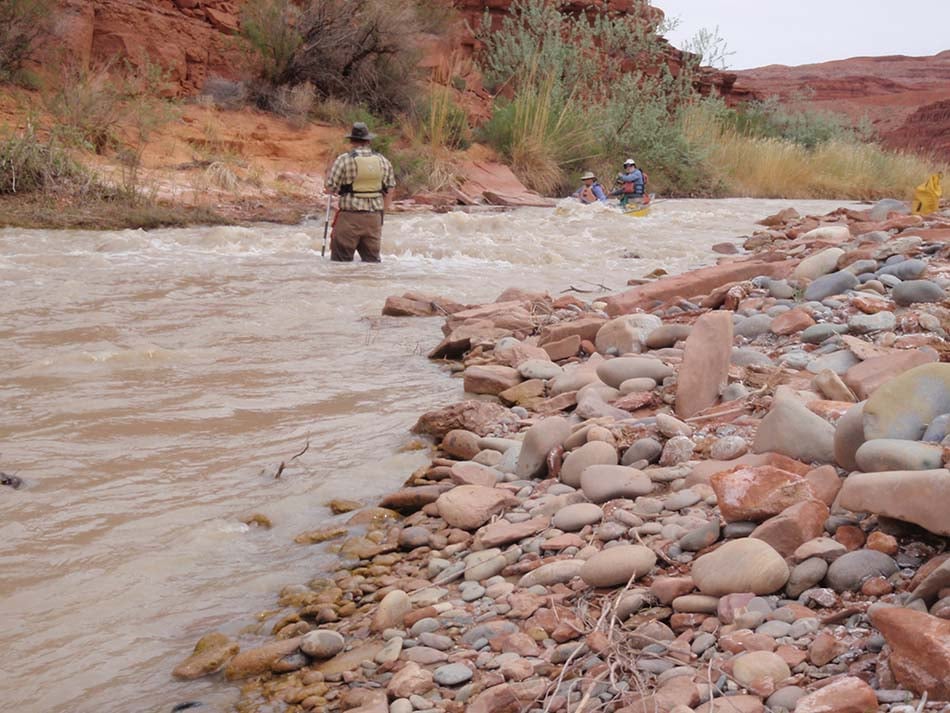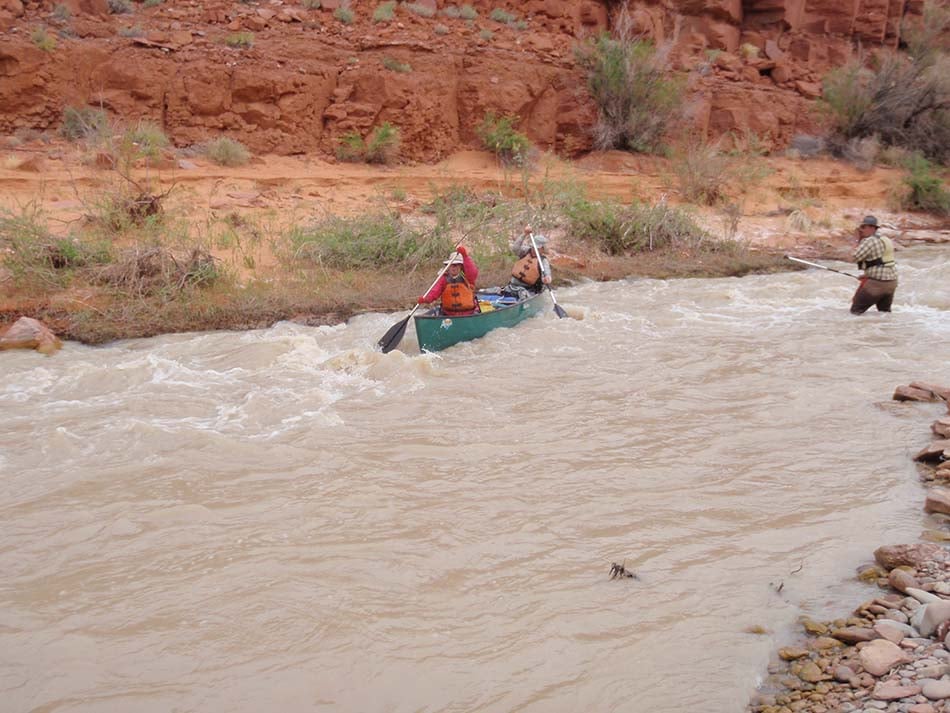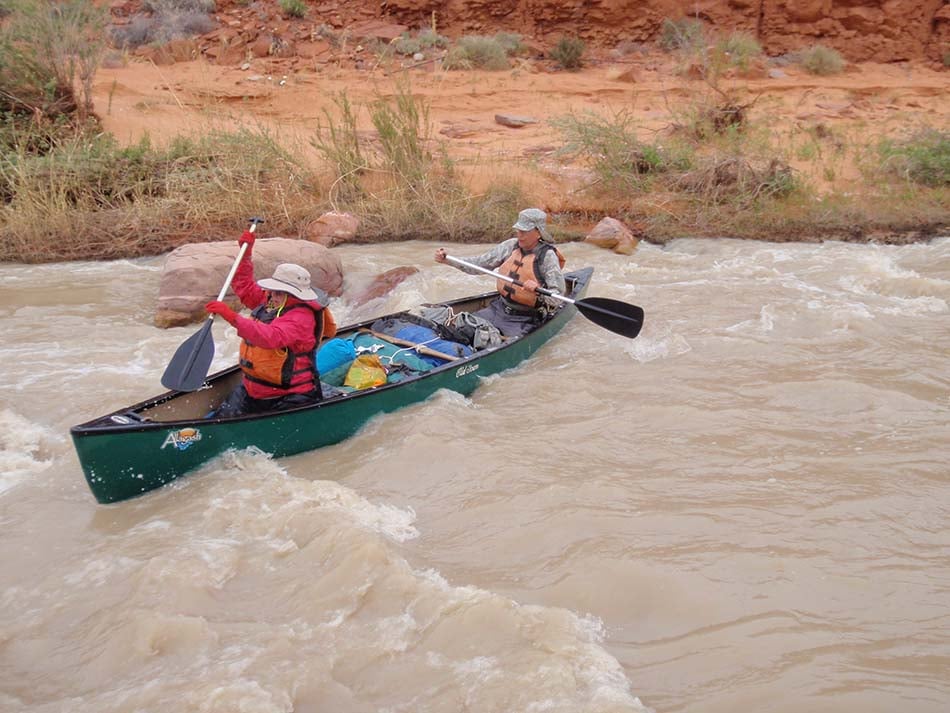 Book Your Complete San Juan River Trip Canoe Trip Today
Trips fill up quickly and your desired dates may not be available. Contact us today to make sure you can get your dream trip on our schedule.
Contact Smoking Rivers Now
Additional San Juan River Information
Perhaps its most renowned feature is the rich display of prehistoric life left over 2000 years ago by the former inhabitants of its banks. Called Anasazi, the 'Ancient People,' by the Navajo Indians who succeeded them, this mysterious early civilization built elaborate cliff dwellings, which are amazingly well preserved, as are their spiritually symbolic petroglyphs.
The petroglyph panels found on the San Juan River canoe trip are some of the best preserved anywhere, due to their remote nature. Huge panels, such as the Cachina Panel are noted throughout the world and paddlers are encouraged to take plenty of time to view these beautiful and striking examples of the ingenuity of the ancient people. Today, many of the artifacts are on land that is part of the Navajo Indian Reservation and are preserved by these people. The cultural significance of the San Juan River to the modern Navajo Indians is tremendous and these people maintain an important heritage and respect for the river.
Deeper canyons soon become a part of the San Juan River canoe trip as we enter into an area marked by the Honaker Formation, a fossil-rich limestone layer that predominates throughout this part of the river trip. Additionally, rapids begin to be numerous in this section, including Four-Foot and Eight-Foot Rapids. As with all of Smoking Rivers trips, we take the utmost care to ensure the safety and enjoyment of our guests and we will Scout all of the major rapids thoroughly to ensure success. For those adventurous paddlers wishing for a thrill and a taste of whitewater, the San Juan River features this excitement on nearly every day of the trip. Starting easy, with the aforementioned Four-Foot and Eight-Foot Rapids, the sections increase in size and difficulty as the trip goes on.
The San Juan River trip passes through the noted town of Mexican Hat, Utah, so called for its rock formation that resembles a sombrero. The succession of canyons upstream of Mexican Hat ends shortly before the town and the Mexican Hat Syncline begins here, marking a deeper descent into the canyons. One of the most famous sections of the entire San Juan River is located not far from Mexican Hat; the Goosenecks. A series of meandering turns made by the river in this area affords those who climb to the top of the canyon a breathtaking panoramic view of the river they have just paddled and the river they are about to paddle. The river meanders in such a fashion throughout this section that paddlers will canoe 5.2 river miles to gain a distance of just 1.3 miles as the crow flies.
Historical remnants on this section of the river are tremendous examples that this river was home to industrious individuals for decades who were looking to 'strike it rich.' Many pioneers flocked to this area in search of gold, gypsum, and petroleum. While oil has been found in small quantities throughout the San Juan River Valley, gold was never found in enough quantity to be productive. However, a number of cabins and outposts still remain that harken back to this era of the river's history. Side-hikes are possible on most days to these locations, such as to the Mendenhall Cabin or throughout Slickhorn Canyon.
Slickhorn Canyon is one of the favored side-canyons of Smoking Rivers' Guides. A popular location for side-hikes, there are remnants of oil exploration near the mouth of the canyon dating to the early 20th century. Today, we enjoy taking ample time to explore this area on foot, as well as taking time to enjoy swimming in a number of deep, natural spring pools that are a wonderful place to cool off. Beautiful canyons abound throughout the duration of the San Juan River canoe trip and we will take as much time as our schedule allows, exploring as many of these canyons as possible.
Smoking Rivers organizes a canoe trip on the San Juan River every April in an 8-day fashion. April is generally considered springtime in the desert of southern Utah. Days are generally warm and nights can be cool, so preparing for a large swing in temperatures from day to night is important. Rain is uncommon but not unheard of. Insects, such as mosquitos or blackflies, are unheard of on the San Juan River. Depending upon conditions, flowers and cacti may be in bloom, providing an even more colorful backdrop to the subtle hints of color marking the canyon walls.
Experience Recommended
The San Juan River canoe trip is best undertaken by those with some prior paddling experience, due to the fast-moving current and larger whitewater. Smoking Rivers' professional guides will take the utmost care to instruct everyone in the group to ensure success and safety in the whitewater but knowledge of a canoe is helpful on this particular river. Due to its remote and extended nature as well, prior camping experience is recommended for this trip.

"Our 6 day canoe trip went by way too fast! We were lucky enough to have some beautiful fall weather and the colors were amazing. The guys from Smoking Rivers completely made the trip. It just wouldn't have been the same without them. They worked hard and took great care of us. The food was delicious and they accommodated my vegan diet! We had so much fun and I've made some lifelong friends. I hope to do this trip again next year! Highly recommended!"
- Tonia Polak

"We decided to have a family canoeing adventure for our girls' 12th birthday. I can now declare that I wish most of the decisions we made in life were as brilliant! It's hard to nominate the star of this trip: The stunning river, the amazing woods and wildlife, the thrill of crossing a patch of whitewater, the blessed distance from the rest of the world- these are all good candidates, but the gold medal has to go to Jason and Dan, our guides. We never canoed before, let alone on a lively river, in what felt like the edge of the world, and we felt completely safe the whole time. These guys 'walk' the river on their canoes like we walk a city sidewalk, with ease and confidence and strength..."
- Dr. Anat Maril
"Just had a great camping & canoeing trip down the St. Croix- Maine at its finest! Beautiful scenes of the river, sky, and the woods with cool wildlife thrown in! Plenty of whitewater excitement too! None of our canoes ever flipped, while many others' did! That speaks loudly of the skills of our two guides, Jason & Dan, who provided us with great training as to any different paddle strokes and lessons on reading the river for the 'V's.' However more importantly they were always near to help when we happened to forget some of that training- they both are the consummate professionals - Our whole group loved the experience and wow can those boys cook !!!"
- Esq Mark J. Berardoni